Mounting and dismounting of bearings, bearing renovation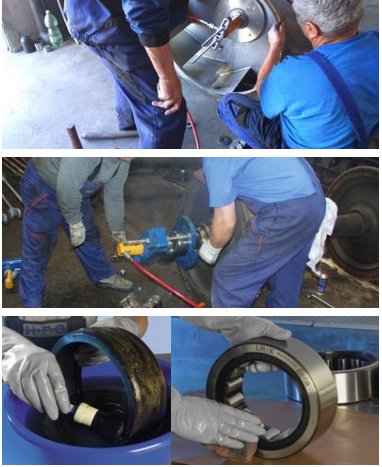 Mounting and dismouting:
Professionally trained workers perform assembly and disassembly of bearings, either at our premises or directly at the customer.
Diagnosis:
Diagnostics of used bearings - unpacking, cleaning, visual inspection, non-destructive test, protocol processing.
Retraining used bearings:
Dismantling, minor repairs, dimensional inspection, installation of bearings, eventually replacement of brass cage for plastic, dynamic testing, marking, preservation, packaging.
Renovation of used bearings:
Removal of dirt and minor damage to orbits of scratches, abrasion super finish.
Renovation of used bearings:
Removing dirt and minor surface damages starting with material fatigue by grinding and super finishing and replacing new rollers plus rolling element replacement.